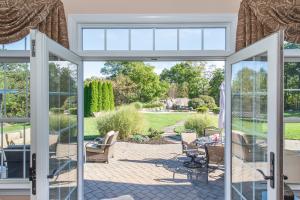 Great Room French Doors to Paver Patio & Backyard
Backyard Natural Rock Waterfall Pool
Discover Elevated Luxury Living in Kinnelon, Just 30 Minutes From NYC and MetLife Stadium
The Mountaintop Experience at Boulders Run Estate cannot be fully appreciated through pictures or videos. Come see the heavenly sky, beautiful gardens and serenity up close using all your senses."
— Diana E
KINNELON, NJ, UNITED STATES, August 14, 2023/EINPresswire.com/ — Boulders Run Estate: A Tranquil Retreat Now Open for Homebuyers
Introducing Boulders Run Estate, an exceptional property that seamlessly blends luxury, nature, and accessibility. Nestled atop a serene mountaintop, this remarkable estate offers an unparalleled lifestyle that combines opulence with the tranquility of nature.
Discover Elevated Luxury Living
Boulders Run Estate is pleased to announce the availability of a truly exceptional property, inviting discerning homebuyers to experience a lifestyle beyond compare. This mountaintop sanctuary offers not only lavish living spaces but also a unique connection to the breathtaking landscapes that envelop it.
A Private Oasis with Spectacular Views
Occupying an impressive 6.96-acre parcel, Boulders Run Estate ensures year-round seclusion and tranquility. The estate's panoramic views provide inspiring sunrises and mesmerizing sunsets, creating a serene environment that's perfectly complemented by the property's backdrop of 178 acres of preserved land.
Luxury Living in Harmony with Nature
This luxurious 5-bedroom, 6-bathroom residence spans four levels of unparalleled design. Featuring a grand 2-story entry, well-appointed offices, and a gourmet kitchen, the home offers an exquisite living experience that is both comfortable and sophisticated.
Exceptional Outdoor Amenities
Step outside into a world of leisure and recreation. The Gunite pool with its captivating waterfall offers a serene escape, while the expansive paver patio and playground provide spaces for relaxation and play. The on-site gym and steam room offer wellness and rejuvenation options for residents.
Access to Nearby Adventures
Boulders Run Estate enjoys a strategic location with a plethora of attractions mere moments away. Nearby equestrian centers cater to horseback riding enthusiasts, and boating lakes provide opportunities for serene water escapades. Ski mountains, golf courses, and zip-line tours offer endless adventure, and cultural festivals add to the vibrant local scene.
Invest in Your Dream Lifestyle
Qualified buyers have the opportunity to invest in this extraordinary lifestyle through partial owner financing. This unique offering ensures that the blend of luxury and nature that Boulders Run Estate represents is accessible to those who appreciate its value.
Book Your VIP Tour Today
Experience the enchantment of Boulders Run Estate firsthand. Book a VIP tour to explore the meticulous craftsmanship, the captivating views, and the exceptional lifestyle it offers.
For more information and a visual journey through Boulders Run Estate, visit https://www.bouldersrun.com
About Boulders Run Estate:
Boulders Run Estate redefines luxury living by seamlessly blending opulence with nature. With panoramic views, unrivaled privacy, and an array of nearby attractions, it offers a privileged lifestyle just minutes away from New York City.
(End of Press Release)
Diana E
Boulders Run
+1 973-750-8414
[email protected]
Outdoor Tour Denise Drive Home – Woodland Acreage – Tour Property
Originally published at https://www.einpresswire.com/article/649648597/boulders-run-estate-a-tranquil-retreat-now-available-for-discerning-homebuyers