Evozer 10.1″ classic photo frame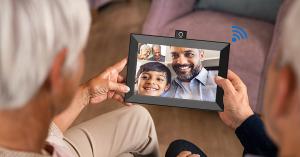 Evozer 10.1″ connect photo frame
Buy one, get one free: evozer believes love is sharing
UNITED STATES, August 4, 2023/EINPresswire.com/ — The highly anticipated launch of Evozer introduces a remarkable collection of digital photo frames, designed to preserve cherished memories and foster meaningful family connections. Guided by the values of love, family, and innovation, Evozer's thoughtfully crafted frames aim to enrich lives across the United States.
A Heartwarming Inspiration: Founder's Vision
The journey of Evozer began with a heartwarming inspiration—the founder's personal experience of being separated from distant loved ones while studying abroad. Observing his grandmother's longing for shared moments sparked the idea of creating a brand that would bring families together. Thus, Evozer was born, driven by a mission to treasure emotions as much as technology.
Unveiling the Evozer Classic Series: A Fusion of Quality and Value
Evozer presents the Classic series, combining quality and value seamlessly. These digital photo frames offer an opportunity to relive precious memories without straining budgets. Evozer Classic stands as a testament to affordability and excellence, capturing cherished moments in a beautifully crafted frame.
Simplicity Redefined: Introducing the Evozer Memory Series
The Evozer Memory series introduces simplicity at its finest, where nature's charm meets modern technology. Crafted with imitation wood grain frames, these photo frames add a soothing touch of nature to any space. The built-in light sensor ensures energy efficiency while providing a captivating viewing experience.
Evozer Connect: Strengthening Bonds Across Distances
Evozer Connect serves as a meaningful bridge between generations, keeping families connected regardless of geographical distances. Equipped with an innovative lifting camera, this digital photo frame nurtures strong family bonds, cherishing every special moment shared with loved ones.
Limited-Time Offer: Buy One, Get One Free
From August 3 to August 15, Evozer presents an exclusive Buy One, Get One Free promotion on the official website. With the promo code: EVOZERTIME, customers can acquire two remarkable photo frames for the price of one. Purchasing an Evozer 10.1″ Memory White Oak Photo Frame will grant a complimentary 8″ Classic Photo Frame, offering both nature's beauty and treasured memories.
About Evozer
Evozer is a pioneering digital photo frame brand dedicated to redefining memories and family connections. Guided by the core values of love, family, and innovation, Evozer offers a wide range of digital photo frames crafted to cherish precious moments and bring families closer together.
Evozer Frame
evozer LLC
+1 307-220-0676
[email protected]
Visit us on social media:
Facebook
Instagram
Other


Originally published at https://www.einpresswire.com/article/647914304/evozer-digital-picture-frame-where-tech-meets-emotion