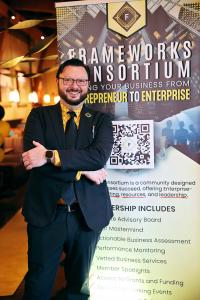 George Mayfield standing with the Frameworks Consortium Banner
Frameworks For Business Success Amazon Bestseller
Frameworks Consortium celebrates the successful launch of George Mayfield's business bestseller, Frameworks for Business Success, a resource for entrepreneurs.
George has used Frameworks like the ones discussed in his book to help our company gain the bandwidth to take on more clients and increase our revenue."
— Justin Stile of Alobi
DALLAS, TEXAS, UNITED STATES, August 7, 2023/EINPresswire.com/ — Frameworks Consortium is pleased to announce the successful launch of "Frameworks for Business Success," How to Scale Your Business from Entrepreneur to Enterprise to Build an Increasingly Profitable Company, written by industry expert George Mayfield. The launch party took place in Dallas, Texas in July 2023 and was graced by an enthusiastic group of business owners and professionals from diverse industries.
"There's something about entrepreneurs… creative and unstoppable in their area of expertise, yet often derailed by the tasks of running and growing a business.", Said Russell Duckworth, Vice President of American Bank, NA and American Bank Business Finance at the event. "George Mayfield's "Framework" creates an adaptive and resilient support structure for transforming a founder's vision into an enterprise-class foundation for success."
The book is available on Amazon, Barnes and Noble, and other major retailers and has already carved a significant niche within the business literature landscape, achieving the prestigious Amazon #1 bestseller status in three categories during its release month. This is a testament to the relevance and practicality of the book's framework for scaling a business effectively and efficiently.
The launch event was supported by various Vetted Service Providers, whose generous contributions enabled Frameworks Consortium to make the event an undeniable success. The supporters included Treasury Sales Management Officer, Chris Honeycutt of Texas Security Bank; Vice President of American Bank, NA and American Bank Business Finance, Russell Duckworth; CFP®, President, Sandene Strategies, LLC, Jeff Sandene; CEO of LivRyte Sales Growth Advisors, Bill Burkhalter; Business Performance Advisor of Insperity, Martin Metzler; Owner of Illuminated by Lanay, Lanay Renstrom; owner of Full Hearts Medicare Advising, Lauren Mayfield; CEO & Partner of Final Ascent LLC, Steve Conwell; and VP of Sagiss IT, Travis Springer.
About sponsoring the event, Chris Honeycutt, Treasury Sales Management Officer at Texas Security Bank explained, "Texas Security Bank, a local Commercial Bank, was founded by individuals experienced in running businesses. They identified a lack of adequate support for small to medium-sized businesses and decided to rectify it. The founders aim to enhance business education through monthly webinars and the TSB Academy. They endorse the book "Framework For Business Success" by George, highlighting its ability to reveal blind spots to entrepreneurs and provide a roadmap for success. Despite entrepreneurs' expertise in their areas, the book and TSB Academy provide additional insights, making them highly recommended for all business owners."
Martin Metzler, Business Performance Advisor with Insperity and in attendance at the event said, "Our mission at Insperity is to help businesses succeed, so that communities prosper. As a former CEO and business owner, that mission statement resonated deeply with me as it takes a village to build a successful business. It is also the reason why I am supporting the objectives of Frameworks Consortium to connect talent, resources and services to the business community and help them on their path to success. George Mayfield's book is one of those great resources."
The launch event was a great platform for members to interact and network with other professionals in the industry, as well as get first-hand advice from George Mayfield and his Vetted Service Providers on how best to use the book's frameworks for business success. Frameworks Consortium has planned a series of events and initiatives to help business leaders learn from one another and leverage each other's successes. The organization also hosts a monthly symposium with credible industry experts to provide prospective and resources that can help them scale their businesses.
For more information on the upcoming initiatives, please visit their website at www.frameworksconsortium.com.
George Mayfield's book is one of many exemplary works within the industry which provides tangible insights into making a successful business. It is a great resource for entrepreneurs to learn from and use as a guide. Frameworks Consortium is currently working on developing more detailed resources for business owners who wish to apply the frameworks in George's book to their businesses. These will include workshops, webinars, seminars and other initiatives all focusing on how to best leverage the frameworks presented in the book.
"George has used Frameworks like the ones discussed in his book to help our company gain the bandwidth to take on more clients and increase our revenue." said Justin Stile of Alobi. "The notion of utilizing strategic partnerships is a valuable concept that both of our companies share. As we add high value partners to our organization, we are able to perform better in our market and engage with like-minded clients".
Bill Burkhalter, CEO, LivRyte Sales Growth Advisors was quoted as stating, "George is a brilliant businessman. The value he brings to the small business community is unprecedented. Over time I have found that he and I share a common goal of wanting to relentlessly serve and help business owners succeed. I've studied a great amount of George's content and I cannot wait to read Frameworks For Business Success"
"Integrity is the most important core value of Sandene Strategies. That's not just honesty and honoring your words and commitments. It's integrity from an engineering perspective, as in, 'without integrity nothing works.' George Mayfield's Frameworks for Business Success embodies this perspective. He explains that businesses are just like machines, 'a set of systems, processes, tools, and people that work together to convert resources into valuable output.' Entrepreneurs must operate in integrity." says Jeff Sandene, CFP® – President, Sandene Strategies, LLC.
The team at Frameworks Consortium is excited to continue providing entrepreneurs and business owners with valuable resources to help them succeed. Keep an eye out for more updates as the organization continues to work towards its goal of helping businesses grow in a sustainable manner.
George Mayfield
Frameworks Consortium
+1 469-922-3508
email us here
Visit us on social media:
Facebook
LinkedIn
Frameworks for Business Success Book Announcement
Originally published at https://www.einpresswire.com/article/648267327/celebrating-business-success-frameworks-consortium-hosts-successful-launch-event-for-george-mayfield-s-bestseller