Woodinville Sauce Company Open Gift Box with 3 Bottles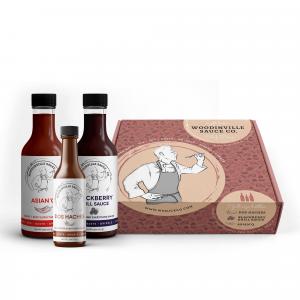 Woodinville Sauce Company Gift Box with white background
Exclusive Holiday Gift Box Sales to Help Fund a Future For Local Farms and Food Security
I'm profoundly inspired by our collective commitment to community well-being. It is not just about creating delightful flavors, but also ensuring food reaches every table."
— Dave Holthus
SEATTLE, WA, USA, October 31, 2023 /EINPresswire.com/ — Woodinville Sauce Company and PCC Community Markets are partnering to deepen investments in the local food network during this holiday season. Woodinville Sauce Co.'s Holiday Gift Box is the centerpiece of this initiative with owner, Chef Dave, donating a portion of each purchase directly supporting Growing for Good, a partnership between Neighborhood Farmers Markets, Harvest Against Hunger, and PCC Community Markets, empowering the ongoing efforts to bridge the gap between local farmers with surplus produce and individuals facing food insecurity.
Chef Dave Holthus, the acclaimed owner of Woodinville Sauce Company, expressed his enthusiasm for the partnership. "As part of the PCC artisan family, the heartbeat of PNW food, I'm profoundly inspired by our collective commitment to community well-being. It is not just about creating delightful flavors, but also ensuring food reaches every table."
From October 30 to December 31, 2023, shoppers at PCC's 16 stores around the Puget Sound region have the opportunity to purchase this curated selection of three locally crafted sauces, each embodying the rich, diverse flavors of the PNW region. A portion of the proceeds promise not just a culinary delight, but support the Growing for Good model that allows for upfront payment to local farms, enabling them to supply fresh foods to hunger relief agencies.
Since its inception in 2020, Growing for Good supports 17 farms that are small, local, and family-owned along with 24 community-based hunger relief agencies. Since then, more than 114,000 pounds of local produce has been purchased from farms, the majority of which are certified organic. This helped ensure that 100 percent of all participating farmers remained in business throughout the U.S.
In addition to the Woodinville Sauce Co. Holiday Gift Box, PCC Community Markets is directly fundraising for Growing for Good in its stores between November 13-18 and December 18-24. Members and shoppers can donate at the register to support the purchase of local food from farmers by hunger relief agencies.
"It is deeply heartening that with the combined power of our partners such as Woodinville Sauce Co., and tremendous support from the co-op's community, we are able to continue funding the Growing for Food program," said Rachel Tefft, Senior Manager of Community Food Systems at PCC. "Across our local food system, we are investing in and strengthening our relationships with local farms and food banks. The ongoing commitment to this program is an opportunity to build something with long lasting effects and benefits."
About the Woodinville Sauce Co. Holiday Gift Box
Seattleites are invited to join this effort to make a difference this holiday season by supporting local food systems while nourishing neighbors who may not otherwise have the resources to prioritize fresh or local food. Visit your nearest PCC Community Markets, or shop online via Instacart, DoorDash, or directly at www.wsauceco.com to support this community cause.
Woodinville Sauce Company's holiday gift box includes three everything sauces:
– One 5.3 oz bottle of Dos Haches Chili Pepper Everything Sauce
– One 15 oz bottle of Blackberry Grill Everything Sauce
– One 14 oz bottle of Asian'Q Sweet and Spicy Everything Sauce
The Holiday Gift Set Retails for $39.99.
All sauces are perfect for holiday entertaining and pair well with Chicken, Pork, Salmon, Beef, veggies, and just about everything.
Dave Holthus
Woodinville Sauce Co.
+1 425-499-6623
[email protected]
Visit us on social media:
Facebook
Instagram
YouTube


Originally published at https://www.einpresswire.com/article/665240758/pcc-community-markets-and-woodinville-sauce-co-unite-to-support-local-food-system