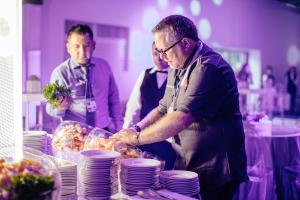 Chef Jeffrey Kollinger at Mark Cuban's birthday, Photo by Kathy Tran
Jeffrey Kollinger Head Chef and CEO of Spice of Life Catering, Photo Courtesy of Spice of Life Catering
Our three decades of success have been a testament to our unwavering dedication to pushing the boundaries of culinary and creative excellence."
— Jeffrey Kollinger, CEO of Spice of Life Catering
DALLAS, TEXAS, UNITED STATES, August 16, 2023/EINPresswire.com/ — Spice of Life Catering, a premier family-founded and operated catering company, is thrilled to announce its remarkable 30-year journey of creating lavish and unforgettable events throughout the Dallas Metroplex. Since its inception in September 1993, Spice of Life Catering has been a beacon of excellence in the local events industry, with CEO Jeffrey Kollinger at the helm for the past two decades.
For the past 30 years, Spice of Life Catering has redefined the art of event planning and catering, leaving an indelible mark on countless occasions. With meticulous attention to detail and an unyielding commitment to perfection, the company has masterfully orchestrated a tapestry of grandiose events that transcend the ordinary and elevate celebrations to extraordinary experiences.
Jeffrey Kollinger, CEO of Spice of Life Catering, reflects on the company's journey, saying, "Our three decades of success have been a testament to our unwavering dedication to pushing the boundaries of culinary and creative excellence. We have woven dreams into reality, seamlessly blending flavors, aesthetics, and emotions to craft events that resonate deeply with our clients and their guests."
In 2005, Jeffrey Kollinger temporarily stepped away from the company, but he swiftly returned with a renewed vision to propel Spice of Life Catering into the future. His strategic insights and innovative ideas breathed new life into the brand, enabling it to continue setting new standards for opulent events.
"As we commemorate 30 years, I'm immensely proud of the journey we've undertaken," Jeffrey Kollinger acknowledges. "From intimate gatherings to high-profile galas, our commitment to delivering impeccable experiences remains unshaken. We have evolved alongside our clients' evolving tastes and preferences, and our enduring passion for excellence has been the driving force behind our success."
Over the years, Spice of Life Catering has had the privilege of catering to celebrity clientele including Mark Cuban, Bon Jovi, and Ryan Reynolds. These high-profile partnerships stand as a testament to the company's ability to execute events of the utmost prestige and complexity.
As the company marks this milestone, it expresses deep gratitude for the support of the communities it serves. Spice of Life Catering has become an integral part of these communities, crafting memories that resonate for a lifetime and fostering connections that endure beyond the events themselves.
To celebrate its 30th anniversary, Spice of Life Catering is delighted to extend a special offer to its clients. All new bookings made through the end of the year will enjoy a 10% discount as a gesture of appreciation for their continued trust and partnership.
For more information about Spice of Life Catering and to explore its illustrious portfolio of events, please visit the company's official website at thespiceoflifecatering.com.
About Spice of Life Catering:

Spice of Life Catering, founded in 1993, is a family-owned and operated catering company based in Dallas, TX. With a legacy of excellence spanning 30 years, the company specializes in creating grandiose events that blend culinary artistry, innovation, and personalized service.
###

Waylon Tate
J. Waylon & Associates
+1 2147633910
email us here
Originally published at https://www.einpresswire.com/article/650245211/spice-of-life-catering-celebrates-30-years-of-crafting-lavish-events-in-dallas