Cinema Verde 2023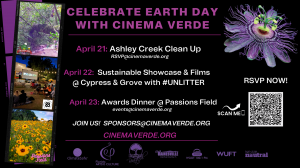 Join us in celebrating our Earth for the weekend!
Congratulations to the Cinema Verde 2023 filmmakers!
Environmental awareness and education are at the core of our mission. Cinema Verde is here to lead the way to a sustainable future."
— Trish Riley, Cinema Verde Director
GAINESVILLE, FLORIDA, USA, April 17, 2023/EINPresswire.com/ — Congratulations to the Cinema Verde 2023 filmmakers! Their films were featured in the 14th annual film festival online at www.CinemaVerde.org, with filmmaker discussions and interviews online along with 70 newly selected films. Thanks to the new Cinema Verde Channel, most of the films, interviews, and news can be viewed online at the member's convenience year-round.
Many of these films will be featured at the Cinema Verde Earth Day Celebration April 22 at Cypress and Grove in Gainesville, FL
Submissions for our 15th Annual Cinema Verde and quarterly events are now open! Click Here!
CONGRATULATIONS!

The Winners of the 14th Annual Cinema Verde International Environmental Film and Arts Festival 2023 are:
Most Engaging: SB2508: A Death Threat to Everglades Restoration, Noah Alexander Miller, USA, 2022, 30 min
Most Revealing Award: Be Water: Andes to Amazonia, Julia Blagny, Bolivia, 2021, 52 min
Water Award: BlackWater, Annick Joseph, Jiahui Shen, Ethan Beckley, USA, 2021, 12 min
Waste Award: Cardboard Scavengers, Macela Moran and Martiza Bautista, USA, 2022, 14 min
Contamination Award: The Cost of Free Water, Jérémie Battaglia, Canada, 2021, 52 min
Activism Award: Crossing the Divide, Ralph King, USA, 2017, 15 min
Earth Award: Dispas Speaks, Craig Leon, Ecuador, 2022, 6min
Arts Award: Eco Arts in Action, Terry Melvin, Australia, 2022, 16 min
Humor Award:The Elusive Purpurea Vulpavis, Michèle Kaye, Canada, 2022, 10 min
Most Uplifting Award: Gaia & Luna: A Mermaid Dream Journey, djassi daCosta johnson, USA, 2022, 6 min
Legal Redux Award: Green Justice: Can the Law Save the Planet? Stenka Quillet, France, 2021, 54 min
Wildlife Award: HOME, Jiwoo Lee, USA, 2022, 9 min
Local Award: Home Waters, Jennifer Adler, USA, 2022, 15 min
Nature Award: In Praise of Insects [Sandbox], Kumi Oda, Japan, 2020, 7 min
Compassion Award: Life with Bats, David Luff, Australia, 2022, 6 min
Best High School Film: Mālama i ke Kai, Genisis Stice, Mekia Kekona Eaton and Bonshia Kajimwe, USA, 2022, 6 min
Best Solution: Mamody, The Last Baobab Digger, Cyrille Cornu, France, Madagascar, 2022, 50 min
Education Award: Nature Nut: Wet N' Wild, Meghan Cahill, USA, 2022, 13 min
Community Award: Once You Know, Emmanuel Cappellin, France, 2020, 104 min
Best Animation: THE SPRAYER, Farnoosh Abedi, Iran, 2022, 9 min
NextGen Award: The Windshield Effect, Anthony Meindl, USA, 2023, 8 min
End of the Road Award: They Want to Build a Road Here! City vs Country, S C, USA, 2022, 27 min
Strategic Targeting Award: Total Disaster, Keil Orion Troisi and Molly Gore, USA, 2022, 11 min
Habitat Award: Turtle, Reza Skbarian Gelshklaei, Iran, 2021, 15 min
Sustainability Award: Water We Doing? The Global Mission to Clean Water, Daniel Gartzke, USA, 2020, 66 min
Rebuilding Award: WE STILL HERE, Eli Jacobs-Fantauzzi, Puerto Rico, 2021, 54 min
Best Dramatization: We Trees, Sam Kauffmann, USA, 2021, 2 min
Cinema Verite Award: Uncovering the Permian Climate Bomb, Sharon Wilson and Miguel Escoto, USA, 2022, 14 min
Audience Choice Award: THE FIRE CATS – Save Something Small, Katharine Parsons Canada, 2021, 80 min
Everyone who submitted films worked so hard, and the team at Cinema Verde and those who watched all over the world appreciate the work these filmmakers put into each one of their films. Thank you!
View our full press release with film images and descriptions included.
New Film Submissions Are Open Now! Click Here
Cinema Verde is a Florida not-for-profit corporation designated as a 501(c)(3) public charity by the IRS: Contributions are tax deductible. Solicitation License# CH33749. Thank you for your support!
Click Here to submit a film
Trish Riley
CinemaVerde
[email protected]
Visit us on social media:
Facebook
Twitter
LinkedIn
Instagram
YouTube
TikTok
Sizzle Reel


Originally published at https://www.einpresswire.com/article/628428125/cinema-verde-is-pleased-to-announce-the-film-awards-for-the-14th-annual-film-and-arts-festival-2023