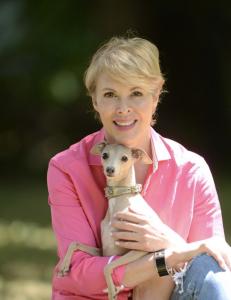 Elizabeth Menegon, owner hands2paws and her Italian Greyhound Vanessa
A dog that was originally purchased online has now assumed the significant responsibility of serving as a worldwide ambassador for www.hands2paws.com
Buying a puppy online is a bad idea – it compromises their well-being and perpetuates unethical breeding practices."
— Elizabeth Menegon, owner hands2paws
STAMFORD, CT, USA, August 21, 2023/EINPresswire.com/ — A chance meeting at the Canadian Pet Expo has turned an online puppy purchase into one mobile apps ambassador against buying puppies online. Stripe, a lovable Chinese crested/Shih Tzu mix, has been chosen by Hands2Paws to shed light on the deceptive practices and risks associated with online puppy shopping.
Stripes owner, Cassandra was captivated by Stripe's Ad, his adorable photo, and "10 pounds full grown" sounded perfect. Meeting the owner in a parking lot to pick up Stripe was the first red flag, Cassandra states. Elizabeth Menegon, the visionary behind Hands2paws, explains "Such arrangements in parking lots are often used by backyard breeders to conceal the poor living conditions of the puppies". Menegon says, Stripe's story serves as a perfect example of deceptive practices in online puppy purchasing. Many consumers unknowingly end up buying puppies that may not even exist or, as in Stripe's case, are not the breed mix that was advertised. As Stripe got a bit older and more like 20 pounds, I started to doubt Stripes' crested/shih tzu mix, says Cassandra, so I did a DNA test and the results shocked me. We found out Stripe was 36.0% Shih Tzu, 18.4% Chihuahua 15.3% Yorkshire Terrier, 14.0% Bichon Frise, 8.6% Poodle (Small) and 7.7% Chinese Crested.
This is exactly what I've been warning consumers about says Menegon. How is this not fraud? This is an illegal representation and backyard breeders are getting away with it because there are no rules, guidelines, regulations, or standards for an all-cash, online-selling breeding frenzy. Menegon believes it is crucial to share Stripe's story and his DNA test results with the public proving that online puppy fraud is real.
Menegon met Stripe and his mom Cassandra at the Canadian Pet Expo, where Menegon was representing Hands2paws. Struck by the adorable crested mix, Menegon immediately recognized that Stripe had come from a puppy mill. Menegon goes on to say; My conversation with Cassandra was both honest and enlightening. While Cassandra expressed her regret about not being aware of the app, hands2paws earlier, "as it could have matched me with a Chinese crested and I would have gone to Chinese Crested Club of Canada. It's clear Cassandra deeply loves Stripe, she strongly condemns the deceitful process and the exploitation she experienced. Cassandra has made Stripe famous with his hilarious Instagram postings; from clothing to lounging around and his unmistakable sweep of white hair on the top of his head.
Menegon states that online puppy shopping has become an epidemic, with countless cases of fraud and deception. She hopes that making Stripe the spokesdog against online puppy shopping will raise awareness about the risks associated with buying online. Menegon urges consumers to conduct thorough research and be vigilant about breeding practices before making a purchase.
In addition to her advocacy efforts, Menegon created www.nolease4paws.com appealing to real estate brokers, to voluntarily pledge, not to lease space to any entity wanting to sell puppies and kittens.
The Hands2paws mobile app, is the only app available of its kind that will match consumers with the perfect purebreed, then guide them to the breed specific association webpage. These associations has bylaws states Menegon and they adhere to those bylaws so purchasing a puppy from a responsible breeder is your only option. Hands to pause is currently available in the US, Canada, and the United Kingdom, has plans for expansion to Australia and Europe, along with sharing Stripe's remarkable story.
To follow Stripe's journey with Hands2Paws, visit him on Instagram at @stripehairless, and @hands_2paws.
###
Media Contact:

Elizabeth Menegon

Owner

Five Pennies Worldwide LLC

[email protected]
Elizabeth Menegon
Hands2Paws
[email protected]
Originally published at https://www.einpresswire.com/article/650677474/online-puppy-purchase-transforms-into-advocate-against-online-puppy-sales