A youth signing the Drug-Free World pledge to stay away from harmful drugs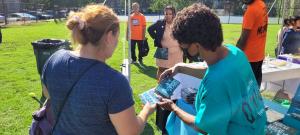 A Drug-Free World volunteer showsing a mother information from a DFW booklet giving details about specific drugs
Increasing drug abuse statistics and overdose deaths drive volunteers to increase their education efforts about the dangers of abusing harmful drugs
It's a race against time to educate our communities about these deadly drugs and their effects by putting The Truth About Drugs messages into as many hands as possible."
— Thalia Ghiglia, Foundation for a Drug-Free World
WASHINGTON, DC, USA, October 19, 2023 /EINPresswire.com/ — Red Ribbon Week was created in 1985 by coalitions of families working to promote drug-free living. It began with Enrique "Kiki" Camarena, a Drug Enforcement Agent who was tortured and killed in Mexico in 1985. To honor Kiki's memory and his sacrifice, anti-drug groups, friends, and neighbors began to wear red satin ribbons. Today, Red Ribbon Week serves to mobilize communities to educate youth and encourage participation in drug prevention activities.
Red Ribbon Week is October 23-31, 2023. Events are planned to honor and celebrate this week including a National Red Ribbon Week photo contest sponsored by the National Family Partnership which has maintained the Red Ribbon Week campaign for over 30 years.

Red Ribbon Week encourages parents, teachers and drug prevention advocates to inspire our kids to be drug free. This is more important now than ever due to skyrocketing overdose deaths. The National Center for Drug Abuse Statistics currently reports over 96,700 drug overdose deaths annually.
Thalia Ghiglia, the Foundation for a Drug-Free World faith liaison in Washington, DC, has been giving lectures about the drug overdose problem and working with other drug prevention advocates to enlighten the public about this danger. Her message is short: "We all need to talk about drug education and the problems presented by drug use. Please take advantage of Red Ribbon Week to join in educating youth and families on the problems occurring with illegal drug usage or prescription drugs being used by the wrong person."
During Red Ribbon Week, the Drug Enforcement Administration (DEA) is also promoting a National Prescription Drug Take Back Day on Saturday, October 28th. Locations to return unused drugs can be found at the DEA website linked below. Parents or grandparents who have had surgery or major injuries often leave unused prescriptions in their medicine cabinets which may become tempting for youth to experiment with – sometimes with severe consequences.
In honor of Red Ribbon Week, Ms. Ghiglia is working with community partners and honoring those who have been spreading the word about drug addiction and the dangers of drugs. She is presenting volunteers who are active in drug education and community betterment using Drug-Free World materials with certificates of commendation. Any volunteers inspired by Red Ribbon Week are welcome to join the campaign to help create drug-free kids and receive their commendation.
"It's a race against time to educate our communities about these deadly drugs and their effects by putting The Truth About Drugs messages into as many hands as possible," Ms. Ghiglia stated. "Successful drug prevention endeavors must include factual drug education to empower individuals with the knowledge to decide for themselves. Once they have that knowledge, they can make more educated choices for their own survival and success."
Red Ribbon Week follows a busy summer of outreach activities, lectures and booths to educate citizens about various drugs and their dangers by Drug-Free World volunteers around the United States working in collaboration with hundreds of drug prevention advocates.
The Foundation for a Drug-Free World continues weekly to work with law enforcement and community activists on effective strategies to reduce the demand for illicit drugs. Drug-Free World has been educating the public for over 15 years and will continue to do so in the knowledge that spreading the truth about drugs is a vital part of helping to stop drug abuse.
The Foundation for a Drug-Free World offers their Truth About Drugs materials free to anyone who is interested. More information can be found at www.drugfreeworld.org regarding free downloads and videos and ordering printed materials.
Thalia Ghiglia
Foundation for a Drug-Free World
email us here
Originally published at https://www.einpresswire.com/article/662752899/red-ribbon-week-activities-planned-to-fight-drug-abuse-by-inspiring-urge-kids-to-stay-drug-free